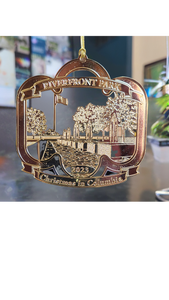 2023 Babcock Ornament - Riverfront Park
Regular price
$22.00
$0.00
Unit price
per
In keeping with the spirit of the season, the Babcock Center Foundation proudly presents the 2023 "Official City Ornament". This year's ornament depicts Riverfront Park.
Riverfront Park opened in 1983 on the land where the original waterworks from the City of Columbia was located.  This was also the site of the world's first electrically operated textile mill and the hydroelectric plant, the oldest one in the state, that is still operational.
The park is located just west of Huger Street, and separates the Historic Columbia Canal and the Congaree River.  It occupies approximately 167 acres. A popular jogging/walking trail runs two and one half miles along the park and offers wonderful views of the river.  There is also a beautiful brick amphitheater, as well as a self-guided walkway by the old parts of the water plant. 
Riverfront Park also includes an outdoor gym which features seven pieces of equipment including a Lat pull down and vertical press, a rower, a 2-person wheelchair accessible chest press, a 4-person leg press, an elliptical cross trainer, 4-person pendulum and 3-person static combo. 
---